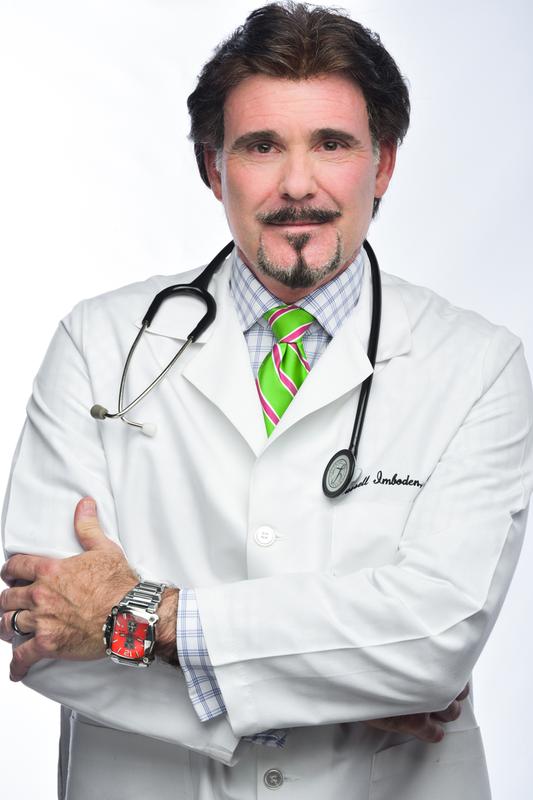 Dr. Russell T. Imboden, D.O. is a 1987 graduate of Kirksville College of Osteopathic Medicine, in Kirksville, Missouri. Dr. Imboden completed an internship in Family Medicine at Des Peres Hospital in Saint Louis, Missouri and received his certificate in Nutrition and Metabolism from the Maryland Institute of Metabolic Medicine, a subsidiary of John's Hopkins University. Dr. Imboden is formally trained and certified in stem cell treatments, including adipose, bone marrow and hematopoietic stem cells, by TOBI American Academy of Cellular Medicine, American Cosmetic Cellular Medicine Association, as well as Empire Medical Training. Since 1987, Dr. Imboden has specialized in metabolic medicine, bariatric medicine, and aesthetics.
Dr. Imboden's focus in Metabolic & Age Management Medicine, has made him one of the best in the country. 90% of Dr. Imboden's patients come misdiagnosed, from many parts of the United States. Dr. Imboden believes that improved health can be achieved by focusing on nutrition. Dr. Imboden has perfected the art of "building back" what may have been taken away in sick or aging patients.
Dr. Imboden strives to always lead, instead of follow and aims to stay ahead of the curve in medicine. Dr. Imboden has spent years of his career researching and formulating many of his own treatment modalities.
Dr. Imboden is loved by patients for his caring demeanor, fun bedside manner, and takes more time to listen than your typical Doctor. Dr. Imboden's passion for medicine is shown upon your first meeting with him.
Dr. Imboden is a member of the American Osteopathic Association, Advocates for the American Osteopathic Association, American Society of Bariatric Physicians, American Academy of Anti-aging medicine, American Medical Association, International Meso-lipo Therapy Society, the International Association for Physicians in Aesthetic Medicine, and the American Cosmetic Cellular Medical Association.
In Dr. Imboden's free time, he enjoys time with his wife Janah, family, friends and their Yorkie Fiona.
praised by people
Dr. Imboden is the first person to "get it". Instead of just prescribing meds, he looks for the underlying cause to whatever may be the problem. He does extensive blood work testing. I have felt better than I have in years under his care!

Dr. Imboden is my hero. He gave me back my life. He also helped my son when no one else could. Dr. Imboden fixes the underlying 'cause' instead of just treating the symptoms. I will forever be indebted to him. My confidence in Dr. Imboden is unshakable.

Dr. Imboden treats his patients with empathy and respect. He fully explains your health test results and makes sure you understand their implications and the necessary treatment plan he will provide for you to follow.

The staff was so encouraging. Dr. Imboden is wonderful!! He is my hero!

I feel Dr. Imboden saved my life by diagnosing prostate cancer at an early stage. My family doctor and urologist treated prostatitis for 5 years, never once suggesting an ultrasound or biopsy. He is the only physician who has taken the time to contact me to follow up with my health. If you are looking for a doctor who cares, I highly recommend Dr. Imboden

Dr Imboden is brilliant! He truly saved my daughters life! She saw countless specialists at the top hospitals and none of them had a clue. Dr Imboden knew exactly what to do and she is now getting the treatment she needs. I have never found a Doctor that knows the body this well. I am forever thankful for him.

I love Dr. Imboden, he has been so good to my family and I! Cannot say enough good about him and would recommend him to anyone in search of the right diagnosis and cure!

Dr. Imboden cares about each patient. He "listens" to the patient and works with the patient to bring them to their optimal health. This is the only Dr. who has spent the time and ran the correct tests to truly diagnose my symptoms and help get me back on track. He is living his dream of helping people...thank you Dr. Imboden!

Dr. Imboden is very knowledgeable in linking symptoms and coming up with a very spot on diagnosis. Anyone who wants answers to their health questions and concerns where other doctors may have only guessed needs to see Dr. Imboden.